How to Develop Meaningful Core Values
Published On May 7, 2021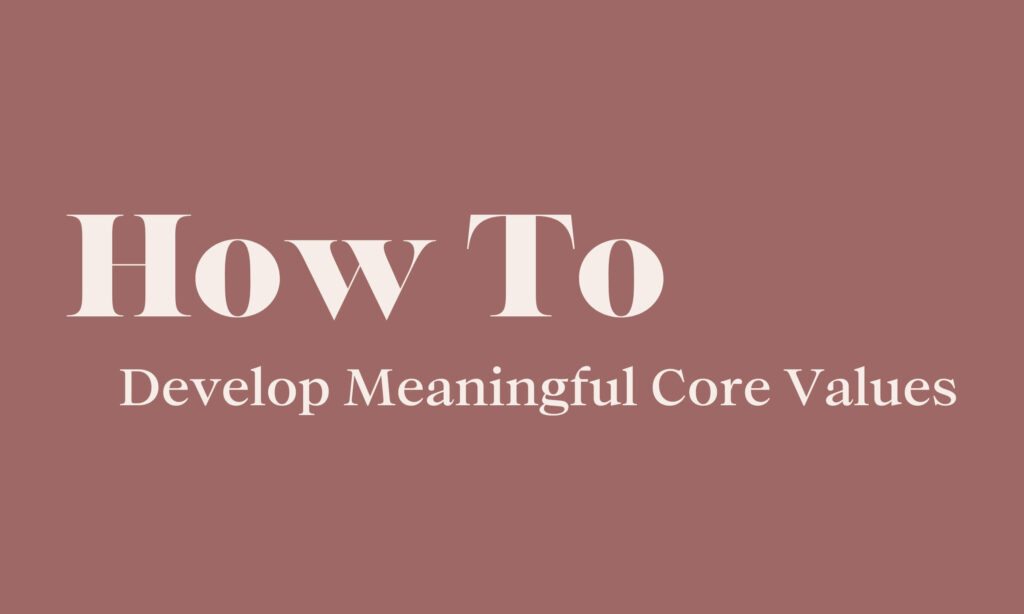 The goal of this exercise is to uncover the path to authentic, loyal connections with a brand's audience.
Think of it like getting to know someone new. You want to know you share the same values and enjoy similar things. A hard core carnivore, for example, may not enjoy a relationship with a hard core vegan. Their values will create barriers, where shared values build bonds.
Your brand's core values work in the same way.
Here's what you need to keep in mind: 
Core values are the things your brand cares about that are not motivated by profit.
Core values give you and your team a bigger and better reason to show up every day
Core values connect your brand with the larger world around you
Core values keep your focus outward, your thoughts innovative, and your mind open
Authentic content springs from properly explored core values
Core values keep your brand connected with the greater good
Core values should be explored in the context of each individual customer segment
Some guidelines: 
Responses should be clear, concrete, and factual
Avoid granularity and avoid assumptions
If a reply does not feel truly true and genuinely achievable, then go spend some time fleshing out that idea.
Be humble in this process
Don't shoot for a trendy value, think about ways your brand can create goodness in the world – above and beyond its product and profit
Here are some questions to ask your brand about its core values. Let's use the core value sustainability for this exercise.
Where and how does your brand connect to the world around us?
Are you a fully online business model? 
Do you have a storefront? 
Do you have a team in an office? 
Do you work in a coworking space? 
Do you work from home?
Now list each and every touchpoint your brand has with its audience. (Note: your audience includes your employees).
This includes social media, shop windows, POS, desk setups, internal messaging… In short, every place your brand voice and image are present.
How does the idea of sustainability influence each one of these touchpoints?
Next, think about your customer segments and why sustainability is important to them. Note: Not all of the questions will apply to every brand, but most will. It is a worthy use of your time to think about each one.
Don't just answer yes or no. Do the research to back up your answers. That is where you will find everything you need to market your values.
What do your customer segments care about?
Does sustainability resonate with them? 
Where do you see specific, concrete evidence of that? 
What language do you notice this customer segment using about sustainability?
What imagery do you notice them engaging with? 
Hint: Hashtag research offers a wealth of information here!
How do your customer segments connect with your core values?
Is sustainability part of their daily lives?
Do they intentionally seek out information about it? 
Are there new and innovative ways your brand can connect them with sustainability?
How can your brand use it's influence to educate others about sustainability? 
Where do they connect with your core values?
Do they read articles?
Listen to podcasts?
Volunteer their time for a sustainability cause?
Promote sustainability on their own social feeds?
How can you engage your customer segments via your core values? 
How can you start conversations about your values on social media?
Can you invite them to participate in your initiatives? 
How can you share the value of sustainability?
How can you encourage others to share this value? 
How can you create good energy around the subject? 
Once you answer these questions, you should be ready to market your core values. You put in the time to become part of the fabric of the community you serve, you learned where your brand creates value outside of its product, you asked your business and your brand tough questions to uncover where and how you can use your core values to make a lasting impact on the world.
And here's the really powerful aspect of core values: they work to fortify your brand internally as well as externally. They have the potential to unify your team and instill pride and brand loyalty. Core values send the message that your brand can be trusted, they give dimension and meaning to the brand voice. Most importantly, core values ensure that your brand matters no matter what. Through ups and downs, supply chain issues, PR snafus, negative reviews or whatever else the world throws at your brand. Your brand will stay relevant through it all because its core values ensure that the brand stays centered in its purpose.